The following is a picture I made in GIMP for a
guest post
on my mom's blog,
Smart Cents Review
. While I obviously can't take credit for the packaging depicted in the little visual intro down there (behind the Lurker, and on the platter), the Merry Lurker in the picture was all my doodlin'. *Nod* I also learned a lot about how to use GIMP in the process. The paint tool box is easier to navigate than I thought it would be, and I
finally
learned how to work with the layers.
The canyon wall, above, is also in the post. I drew that the first day I got my tablet, to test out the colors. Even though it's not a detailed picture, it seemed like a perfect fit to show off Corel's colors and effects. Besides. Pretty canyon.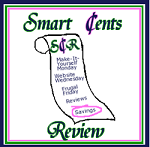 (The Smart Cents Review button above isn't my work and belongs to Smart Cents Review)